Visiting Taipei in Taiwan is a fantastic way to immerse your kids into Taiwanese culture and the Chinese Mandarin language. There are ample opportunities to communicate in Chinese, while you are exploring Taipei. I've asked some travel bloggers to share the best things to do in Taipei with kids.
Best things to do in Taipei with kids
There are so many things to do in Taipei with kids, including:
Beitou
Hike Xiangshan Mountain
Ximengding District
Longshan Temple
Taipei Zoo
Food Markets
Beitou
By Lotte Eschbach from Phenomenal Globe Travel Blog
A great place to visit with kids is Beitou, an easy day trip from Taipei and a lovely village that feels different than other places in Taiwan. Beitou has a lot of similarities with Japanese hot spring villages, which isn't surprising as the Japanese developed the area when they ruled Taiwan between 1895 and 1945.
There are many things to see and do in Beitou, and it's easy to spend an entire day here. Beitou and the surrounding area are known for their thermal activity and natural hot springs. As such, there are many public and private hot springs in town. At these hot springs, you can soak in the hot sulfurous water, which is said to heal all sorts of ailments. While this activity is suitable for families with kids age 4+, visiting with very young kids and babies isn't recommended.
Not to worry though, there are many other worthwhile spots in Beitou. Kids of all ages will surely be impressed by Hell Valley, a vividly colored steaming pool. The blue-green water is between 90-100°C and is continuously steaming and bubbling, which is fascinating to watch.
Beitou Park is lovely for a stroll or a family picnic. Also, don't forget to visit the beautiful Beitou Library that's located in the park.
Getting to Beitou from Taipei city centre is very straightforward. Just hop on the Tamsui–Xinyi line (the red one), disembark at Beitou Station and change to Xinbeitou MRT station. The ride takes only 30 minutes in total! If you want to spend the night at Beitou, Beitou Hot Spring Resort is a comfortable place to stay.
Hike Xiangshan Mountain
By Rachel Rodda from Adventure and Sunshine
The hike up Xiangshan Mountain, also known as Elephant Mountain, is one of the best free things to do in Taipei with kids and an essential stop on your trip to Taiwan.
It is a 30-minute walk up a steep hill of paved steps to several viewing platforms with sweeping views across to the city and Taipei 101.
There are plenty of views to take in along the way, framed with the lush green forest of the mountain. The path and steps are steep in some sections, but they are manageable with little kids.
It can be a hot walk up if the weather is humid, so be sure to pack some drinks and snacks for everyone.
The best time to go up Elephant Mountain is in the late afternoon for sunset, but this is also a very popular time to go. So if you want to avoid the crowds try and visit on a weekday morning. Or if you have older kids, a visit in the evening (with torches) is a fun way to take in the skyline lit up at night.
To get to Xianghan Mountain catch the red line of the Taipei MRT to Xiangshan. Take Exit 2 and follow the signs to the start of the trail, which is about a 10-minute walk from the station.
Place X Hotel is a great hotel with family options close to Xiangshan Mountain.
Ximending District
By Noel Morata from Oahu Travel Now
Taipei is such a fantastic place to visit with children, and one of the cool and colourful places to explore day time to night time with kids is the Ximending district. A fun place to bring children for the strange, animated video, play stores, and other entertainment venues that are popular with locals and kids to enjoy. There's fun day and night markets. At night things pick up a notch with everything lit up in neon and bright colours. This attracts you to walk down the busy and fun promenades filled with foodie shops, game and video shops, and quirky shops filled with Asian inspired graphics, cartoon characters and other cheap trinkets to take home.
You'll love visiting Ximending and exploring all the wonderful walking promenades that are safe and attractive for children to enjoy. There's even an area with cool street art, movie theatres, and other public hang out spots. These are great for relaxing and people watching, while trying out some of the local street food and snacks sold all around the walking venues. Definitely take your family to explore Ximending, which is an easy metro ride from anywhere around the city.
One of the fabulous places to stay in the Ximending district is the Amba Ximen hotel which is hip, colorful and extra large size rooms with youthful and family friendly appeal that makes your stay in Ximending a perfect stay.
Longshan Temple
By Suze Sanders from Survey Suze
Longshan Temple is one of the largest and oldest temples in Taiwan. It also has the reputation of being one of the most beautiful in Taipei. It's interesting, and its size helps it be a great place to visit with kids. It's easy to explore while not bothering anyone.
Built in 1738 in the oldest part of Taipei, Wanhua, this interdenominational temple was built by Fujian settlers as a place to connect with other Chinese people. Over time, it's been continuously improved and renovated by the local people, who are rightly proud of the fact that their community keeps it going. It's a mixture of Taoist, Buddhist, and Confucian faiths.
It's a magical, ornate site with gardens, flowers and incense. There are many enshrined deities, animal statues and figurines (which our kids particularly loved) and it's a great site to wander around. If you make it to just one temple in Taipei, this is a fabulous, accessible one to visit with kids.
For accommodation nearby, check out the Tongnian Wangshi Homestay. It has family rooms with cool designs that your kids are sure to love.
Taipei Zoo
By Sharon Gourlay from Tasmania Explorer
Located on the edge of Taipei, Taipei Zoo is a must visit attraction when you visit Taipei with kids. Situated on 165 hectares, this is a great place to escape the city, stretch the legs, and have a fabulous time exploring the many animals, and different environments set up to house them.
The enclosures are well set up with a good amount of space for the animals. There are many to see here; with animals ranging from African to Australian to animals indigenous to Taiwan. There's also a great reptile area, which kids love.
The highlight is definitely the giant pandas – don't miss these magical creatures.
It's a big site. If legs get tired, there is a mini train that can take you between two sections of the park. The zoo is pram friendly, and I recommend you take one for younger kids – this place is big! There are also eating options on site.
If all this sounds great, there is one more big bonus – the zoo is cheap with tickets currently costing only TWD$60 for adults and free for kids.
Howard Plaza Hotel is a great place to stay while you are in Taipei with kids. There are family room options, as well as connecting rooms, and a pool to let off some steam. The hotel is close to Daan Park and Daan subway station, which is on the same line as the zoo.
Food Markets
By Marco Sison from Nomadic FIRE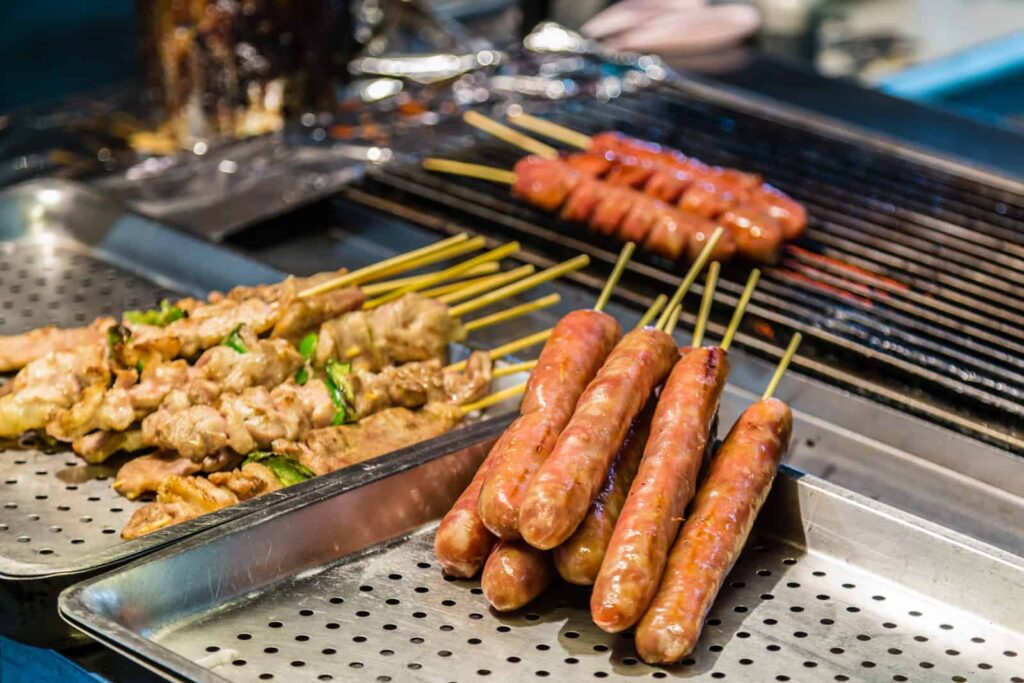 Taipei is a low-cost paradise for foodies. Whether your family is moving to Taipei or just visiting, try to sample as many local Taiwanese foods as your stomach can hold. The flavours and variety of cheap eats here are very different from most of Asia, and worlds away from the tasteless McNuggets of the USA.
Taipei's famous night markets are the best places to start experimenting with Taiwanese cuisine. Don't hesitate to bring the kids along for your culinary adventure. Not only will they get to sample food that is hard to find in an American supermarket, but they'll also learn a lot about life in Taipei.
Excellent food markets are everywhere in Taipei, but I suggest starting with the Shilin Night Market. It's a massive market with a variety of foods, and is loved by locals, expats, and tourists alike. Regardless of where you are staying in Taipei, Shilin is easy to find. The market is only a 10-minute walk from the Shilin metro station. But for families looking for a hotel close to the market, the Tango Hotel Taipei Jiantan is only 600 metres away. Prices for two adults and one child start at roughly $150 per night.
Thousands of people flock to Shilin on the weekends. With tons of delicious food options, it's easy to understand why. Don't let the thongs of people dissuade you; people-watching is part of the adventure. Plus, this is a great place to get your cheap Taiwanese food fix.
For kids, I recommend Dan Bing (a savoury stuffed egg crepe), Xiǎo lóng bāo (dumpling filled with warm soup), or Xiāng cháng (BBQ Taiwanese sausage) as a kid-friendly intro to Taiwanese foods. And since Taiwan is the birthplace of boba tea, wash everything down with a sweet milk bubble tea as dessert.